Words are Irrelevant
on
04/14/2013
at
1:19 PM
and modified on 05/16/2013.

at 11:48 PM
" God answers the soul's attitude, not the words." -Urantia Book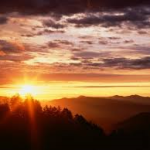 God answers man's prayer
by giving him an increased revelation of
truth,
an enhanced appreciation of
beauty,
and an augmented concept of
goodness.
Prayer is a subjective gesture,
but it contacts with mighty objective realities
on the spiritual levels of human experience;
it is a meaningful reach by the human for
superhuman
values. It is the most potent spiritual-growth stimulus.
Words are irrelevant to prayer;
they are merely the intellectual channel in which the river of spiritual supplication may chance to flow.
The word value of a prayer is purely autosuggestive in private devotions and sociosuggestive in group devotions.
 God answers the soul's attitude, not the words.
Prayer is not a technique of escape from conflict but rather a stimulus to growth in the very face of conflict.
Pray only for values, not things; for growth, not for gratification. Urantia Book  Paper 91